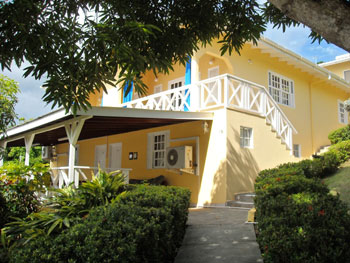 Ade's Domicil-Guesthouse is located in a serene and secured residential area in
Bacolet Point, Scarborough, Tobago. We are 20 minutes from the Crown Point Airport and 5 minutes from down town , Scarborough. There are two restaurants nearby. The beach is 250 meters away.

Tel/Ph:++1 868 639 4306
E-mail:adesdomicil@gmail.com
Ade's Domicil Guesthouse
Each of our four units contain kitchenette, hot/cold water,private bathroom, king/queen size bed, airconditioning, ceiling fans, balcony/terrace, safety deposit box and cable TV.
Bacolet Point, near Scarborough
Big game fishing, diving, Island tours, golf and car rental can be arranged.